Get a 5 € voucher from computeruniverse as a new customer
Get to know us, discover the great variety of technology and save with a 5 € computeruniverse voucher on your first purchase.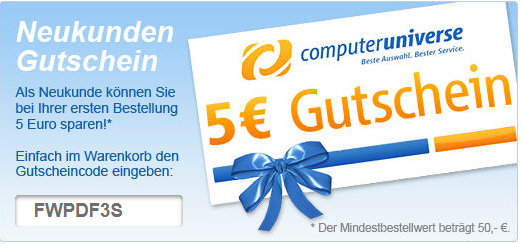 Just enter the coupon code FWPDF3S on your first order and you will receive an additional 5 Euro discount.
Sign up for the newsletter and receive a voucher for 5 Euro

Ideal for any occasion: gift vouchers with optional value
You will receive your ordered vouchers as paper documents with a printed coupon code.

So you can present your vouchers solemnly as a gift.

Please note the following conditions when redeeming computeruniverse coupons:
Vouchers can only be redeemed on our website.
Vouchers can not be paid in cash.
Gift certificates are valid indefinitely after payment.
When redeeming, the order value including shipping costs must have at least the amount of the coupon amount, a partial redemption of vouchers is not possible.